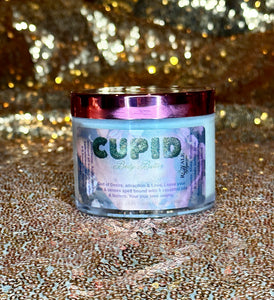 God of Desire, attraction & Love, Leave your skin & senses spell bound with 8 essential oils & butters. Your true love awaits.
ingredients: Shea, mango, avocado, aloe Vera butter. Avocado, vitamin e, rosehip, jojoba oil. Soy wax, fragrance blend.
Sweet sexy scent!
The Cupid 💘 body butter is my favorite. I really wanted the gift set, but couldn't afford it, so I settled for just the body butter at the time. It is so smooth on the skin and smells so damn sweet. Royale Flyness always delivers. Now all I need to try next is Fredo's lip balm. Lol 😜
Sweet sexy scent!
The Cupid 💘 body butter is my favorite. I really wanted the gift set, but couldn't afford it, so I settled for just the body butter at the time. It is so smooth on the skin and smells so damn sweet. Royale Flyness always delivers. Now all I need to try next is Fredo's lip balm. Lol 😜